About
DANGER of the FROST?

DAY'S ARE SUNNY & WARM
BUT NIGHT TEMPERATURES CAN BE A KILLER!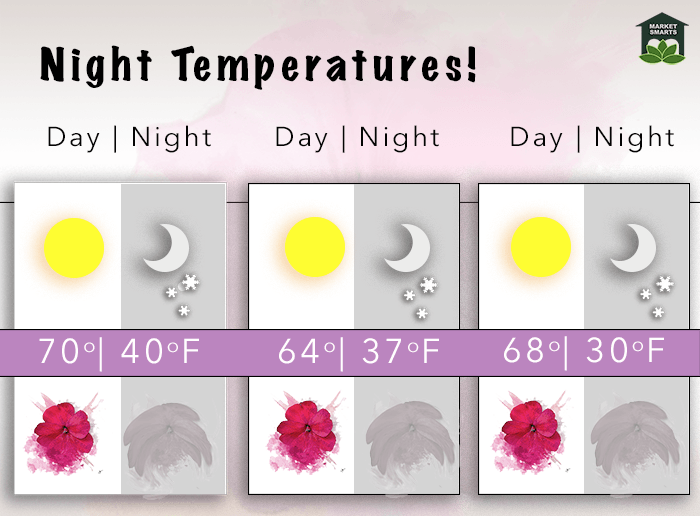 WHAT YOU CAN PROACTIVELY DO TO SAVE YOUR PLANTS:

OPTION 1 – Large garden areas–water plants to wash off any frost BEFORE sunrays hit the plants.
OPTION 2 - Large garden areas–cover plants with cloth, burlap, hot caps, bubble-wrap, ground cover, & drop cloths.
OPTION 3 - Pots–Use a fan to create air flow around the plants (it helps to station a heating unit behind the fan.)
OPTION 4 - Containers–use heating unit to keep ambient temperatures above freezing.
OPTION 5 - Containers–wrap pots in bubble wrap.
OPTION 6 - Containers–introduce straw(not hay) into or around the container.
OPTION 7 - Buy the plants, but do not plant them, just keep on porch until May 19th or weather permitting.
WHEN IS IT SAFE TO PLANT IN MICHIGAN ZONE 4? : AFTER MAY 20TH!

TWO KEY TEMPERATURES (40° and 55°)

HARDENING OFF– (NIGHT TEMPURATURES AT 40°)
Once outside tempuratures reach 40° (degrees) and above–
It is okay to set containerized plants or (flas of annuals) outdoors during the day, for several hours a day. Continue this outdoor-indoor routine for several days as long as weather permits.

BRING PLANTS BACK INSIDE IF...
After several days hardening off, you should be able to leave them out over night, as long as night temperatures are maintained above 40°. However, be alert and ready to bring your annuals back inside based on day/night temperature fluctuations (especially nights) if predicted to dip to 40°.

SAFE OUTDOOR PLANTING TIME (TEMPERATURES ABOVE 55°)
Tender annuals–impatiens, begonias, petunias etc., should be planted outdoors ONLY if, night temperatures are above 55 degrees. (May Danger of Frost Ends May 29th.

COLD SHOCK (STUNTED PLANTS?)
If your plants are exposed to 40* temperatures, they may not die, but might be thrown into Plant Shock. In this state they might remain stunted or, miracuosly rebound after ground temperatures sustain at 70° periods.

FARMERS ALMANAC– FIRST & LAST FROST
Farmers Almanac First & Last Frost DANGER OF FROST PROBABILITY CHART
MSU Climatologist Office