About
EASTERN MARKET DETROIT ORIGINALLY STARTED?


PRE HISTORY

1841 - Originally started at Cadillac Sq
1891 - Moved to (current location)
1892 - Shed 1 built, but demolished in 1967
SHED 4 looks more like a connecting structure of SHED 3 & 5.
SHED 2–Erected in 1898–is the main historic structure of Detroit's past into the present.
HISTORICALLY SPEAKING
The term "Shed"was used back in the early 1800s when local farmers raised a shed to sell their produce for shelter against the elements; early temporary structures were flimsy. To accommodate the large increasing agricultural commercial industry in Detroit, several sheds were erected over strategic areas throughout the city.
[Source Historic Preservation archieves–see below]
WHY CALLED SHEDS?

In the early years there were several such farmer produce sheds or structures scattered throughout the city of Detroit. But, as the farming age was transformed from agriculture to industrialization, the sheds also experienced several transformations during this time as sheds were slowly being replaced and modernized by the changing architecture and expanding urban renewal.
Documentations confirm that the original market was located in Cadillac Sq Downtown Detroit, and was later relocated to Russell & Wilkins.


Tentative Sheds—including Shed 1 & 2 —were already being constructed as early as 1891.
The term origin of the term "shed" has since faded from public memory; few city individuals even know the true meaning of the word "shed" except those few who represent an unbroken chain of generations  who make the annual pilgrimage to the good old historic Detroit Eastern Market's annual events such as Flower Day. Note SHed 4 is only as connection tunnel between Sheds 3 & 5.
The current Eastern Market is the lone survivor of originally several designated markets that was located throughout Detroit in the early years(1800s).
[Source Detroit Preservation–see link below.]
SHED 3 THEN & NOW

Note similarities between the original structure built in 1922–not much has changed [Source Detroit Preservation]
ONLY THREE SHEDS ARE NUMBERED

Some visitors to the market notice that there are a total of only three Shed designation numbers with large orange numbers on the roof tops. But, the numberings are for only Shed 2, Shed 3, and Shed 5?

Shed 1 located at "southern end" of market –
(Built 1891-demolished 1967; current parking lot)
Shed 2 located at "southern end" of market –
( Built 1898–victorian double arched architecture)
Shed 3 located at "southern end" of market –
(Built 1922)
Shed 4 located at "mid-market" of market –
(Built 1938–looks more like a connecting cooridor of 3&5)
Shed 5 located at "northern end" of market –
(Built 1939)
Shed 6 located at "northern end" of market –
(Built 1966)
Sheds 2, 3, & 5 are identified with obvious large roof-top numbers, however, Sheds 1, 4, & 6 are not.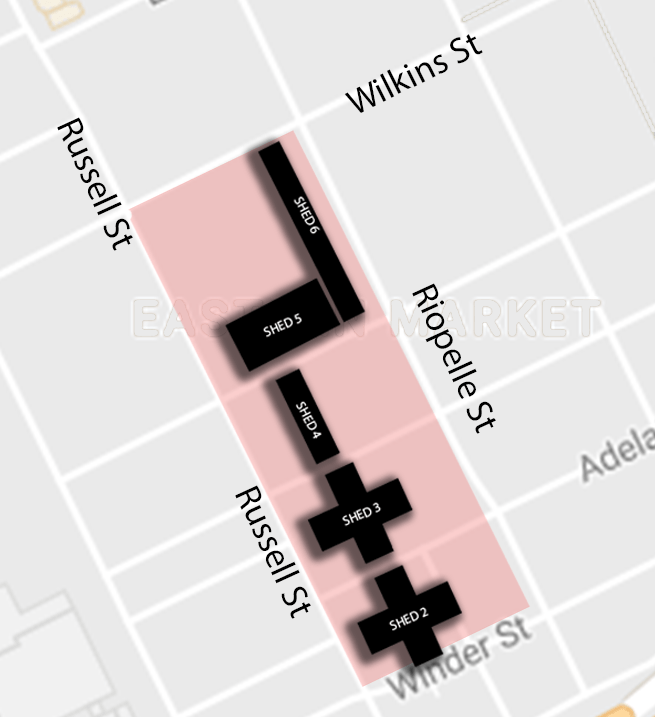 WHERE ARE SHEDS 1, 4, & 6
I don't see any signage on top any buildings?
Firstly, Shed 1 no longer exists!
Shed 1?

Shed 1 was located just south of the where Shed 2 stands today. Shed 1 was originally built in 1841 then, almost 40 years later it was torn-down in 1967 due to the expanding freeway systems. So officially Shed 1 no longer exists—it is currently the parking lot.

(Shed 1 no longer exists – "southern end" of market – Constructed 1841; demolished in 1967.)

Shed 4?

Shed 4 does not resemble any of the large structured sheds and displays no mark or shed name on its frame. Shed 4 is the free stand-alone open-air connecting structure that sits between Sheds 3 and 5. It is currently painted a rust orange it is considered a mere walking path connecting Sheds 3 & 5.

 (Shed 4 is located "mid-market" – Constructed 1938)

Shed 6?

This structure also display's no name or title. It is located at the northern end of the market. It is simply referred to as the section with the tall roof-top or high canopy, "you know, the area upfront with the raised sidewalk."

(Shed 6 is located at the "northern end" of the market – Constructed 1966)
WHEN WAS EASTERN MARKET ORIGINALLY STARTED?
Detroit Eastern Market History - Original Historical Article
Detroit Eastern Market History - Detroit News Photos
Detroit Eastern Market History - Anglefire–Table Format

Contact:
Publish Related Services - Latest Updates
I'm Listening - Submit to Editor, Ike Austin
Request - For Terms of Use or Link-to Permission

Distribution or re-use of this article is welcomed. Please acknowledge the author and source by including a link-back to this site in any gardening related publications https://www.flowerdayeasternmarket.com



Copyright © 2017 Flower Day Eastern Market, All rights reserved.