At the beginning of every spring the blooming question is, "when is flower day at Detroit's Eastern Market in Michigan?" In 2021 this year, Flower Day falls on the first Tuesday 4th in May. However, every Saturdays, in (May-June) are the actual bigger summer season flower sales events: larger crowds, vendors, flowers by the thousands.
SO, Flower Day Tuesdays or, Summer Sale Saturdays?
IS SATURDAY BIGGER, BETTER?
Saturday offers a broader selection of flowers, plants and vendors.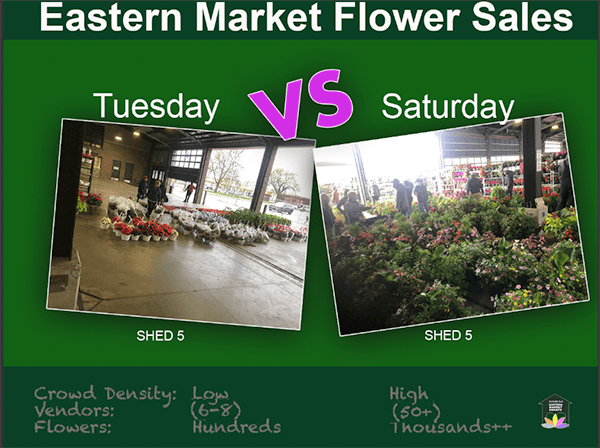 Flower Day Tuesdays OR Summer Sale Saturdays?
CROWD SIZES:
If you want small crowd density, go Tuesdays.
For large crowds, giant inventory, go Saturdays.
FLOWER VENDORS:
Tuesdays only (6-8)
Saturdays (50+)
1. Tuesdays – in May are 9AM- 3PM
2. Saturdays – from 6AM-5PM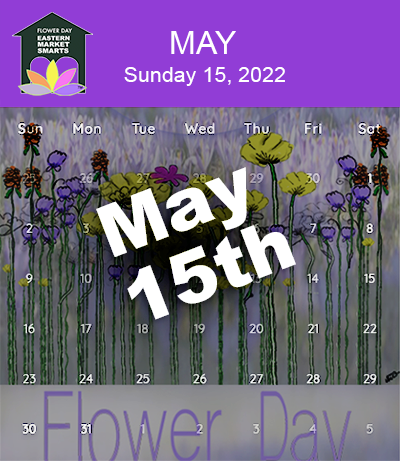 Flower Day Tuesdays OR Summer Sale Saturdays?
However, here is a handy Countdown Clock that will automatically keep track for you. Also, use the chart to observe predictable patterns for determining future
Flower Day
events. Of which has become an annual Eastern Market well-known tradition that officially began in 1967. It is the Detroit's main summer event that draw flower & garden lover patrons from all over Michigan and beyond.