1001 Buying Tips
How to spot the best flower deal, and what to watchout for. A must read before visiting.
Checking the number of plants in a flat can get you more for flowers!!!
Learn more...
Watch that flat plant count.


At the beginning of every spring the blooming questions are:
when is flower day at Detroit's Eastern Market in Michigan?
How do I get the best flower deals?
Secondly, many shoppers say that (May-June) Saturdays are the actually bigger summer season flower sales events, offering more price bargains: larger crowds, vendors, flowers by the thousands.
SO, Traditional Flower Day, Sunday May 21ST, or Summer Sale Saturdays?
IS SATURDAY BIGGER, BETTER?
SATURDAYS VS FLOWER DAY...
Saturday also offer a broad selection of flowers, plants and vendors.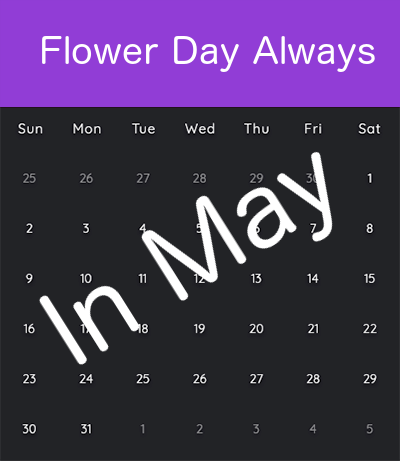 Flower Day–1001 Buying Tips, Flower Day AND Summer Sale Saturdays
FLOWER SEASON VENUE COMPARISONS
CROWD SIZES:
For large crowds, giant inventory, go every Saturday all summer long.
FLOWER VENDORS:
Saturdays (100+)
Flower Day Sunday (160+)
2. Saturdays – from 6AM-5PM
3. Flower Day Sunday – from 4AM-8PM
Flower Day OR Summer Sale Saturdays?
However, here is a handy Countdown Clock that will automatically keep track for you. Also, use the chart to observe predictable patterns for determining future
Flower Day
events. Of which has become an annual Eastern Market well-known tradition that officially began in 1967. It is the Detroit's main summer event that draw flower & garden lover patrons from all over Michigan and beyond.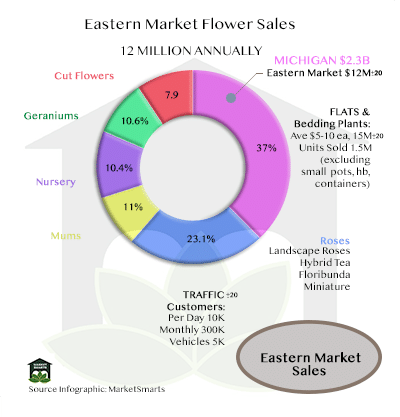 Market Sales Infographic
There are millions of flats and hanging baskets, hundreds of truckloads–one could find any price range to fit the budget $5-$15.
Pre-screened All the Cheapest Prices For You.
OTHER RELATED LINKS OF INTEREST:
MSU Annual Field Trials - Two week tour
OSU Cultivar Trials - Aug Open House
New Flower Varieties - Latest Cultivars
Gardening From Seed How to
Spring Yard Clean-up 6 Garden Prep Steps
Fall Yard Clean-up 6 Steps
Frost Danger Keep Plants Safe
Greenhouse LocatorSE MI
Photo Upload – Upload Your Own
FlowerRadar Inventory – Best Deals
Flower Day Billboards - Nostalgia
Gardening Tools - MarketSmarts
Winter Blooming Indoor Tulips - Flowers
Eastern Market - Video Library
Eastern Market - Art